Mabel Moulding-Yates (Nee Bagnall)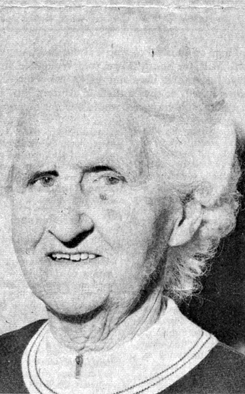 This press cutting and the 1891 census tell us all we know about Mabel Moulding-Yates (Nee Bagnall). Click on the press cutting to read the full article.
The press clipping was dated 1975: when she was 87, so her birth year must have been ~1888. The 1891 census confirms this since she was 3 when the census was conducted.
Mabel Bagnall is absent from the family home in the 1901 census, but another page from the same census shows a Mabel Bagnall (born in Wakefield) at a school on South Street in Thornhill. She was listed as boarder.
She was widowed during the Second World War and had no children, Lived at Queen Elizabeth Road, Eastmoor.
She married at Eastmoor Methodist Chapel in 1930s.
She claimed that John Bagnall "was a master builder and built County Hall, Clayton Hospital and the Prison"