George Bagnall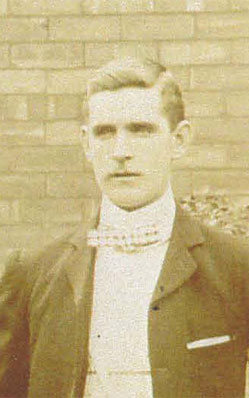 He did a lot of work building at Silcoats School and he built the very high wall at the prison. He also installed gallows there but only he used them with a bag of sand to test them."
- Margaret Johnson
Born 1880
From the 1881 and 1901 censuses, we can deduce that George was born in 1880.
1922
In a trade directory of 1922, George Bagnall is listed as a councillor for Outwood: "Outwood SUDC Stanley Ward George Bagnall"
George Bagnall listed in a directory as a private resident at Ivy Bank, The Grove".
1922 - 1923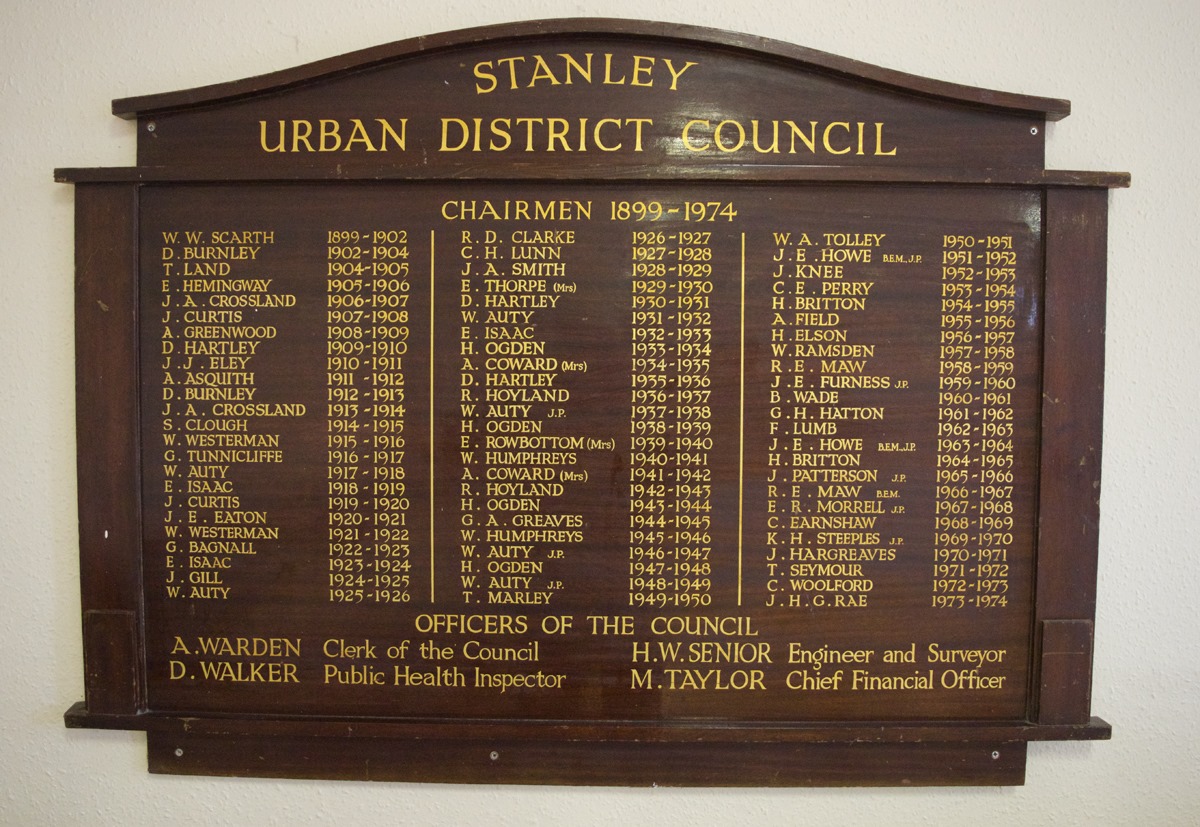 George Bagnall was chairman of Stanley Urban District Council, living at Ivy Bank, The Grove, Stanley.
This photograph, by kind permission of Michael Hooley, is a noticeboard showing chairmen of the council from 1899 to 1974. George is 4th from bottom, first column. It is presently in the Outwood Memorial Hall.
Map
Family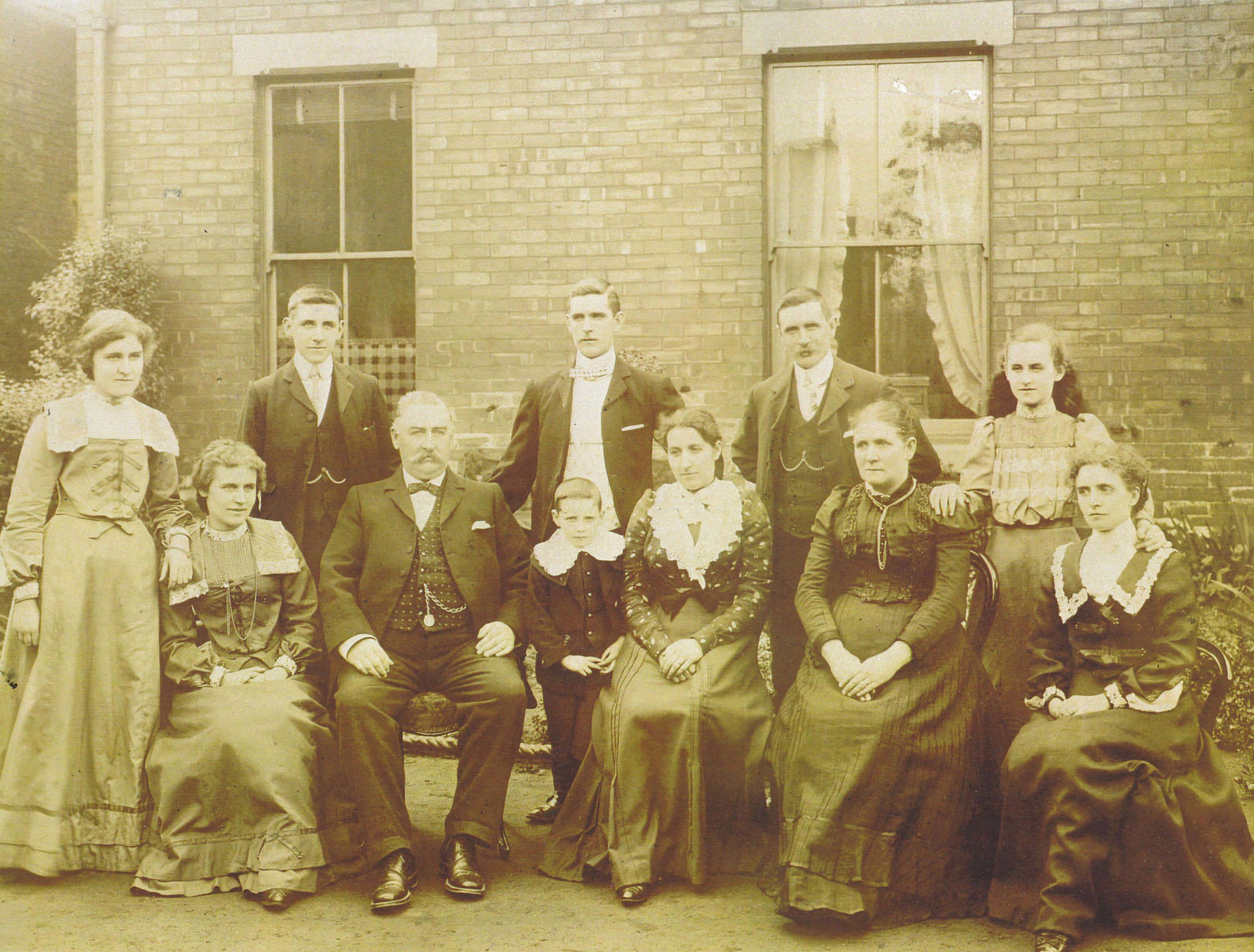 Was this George's wedding?: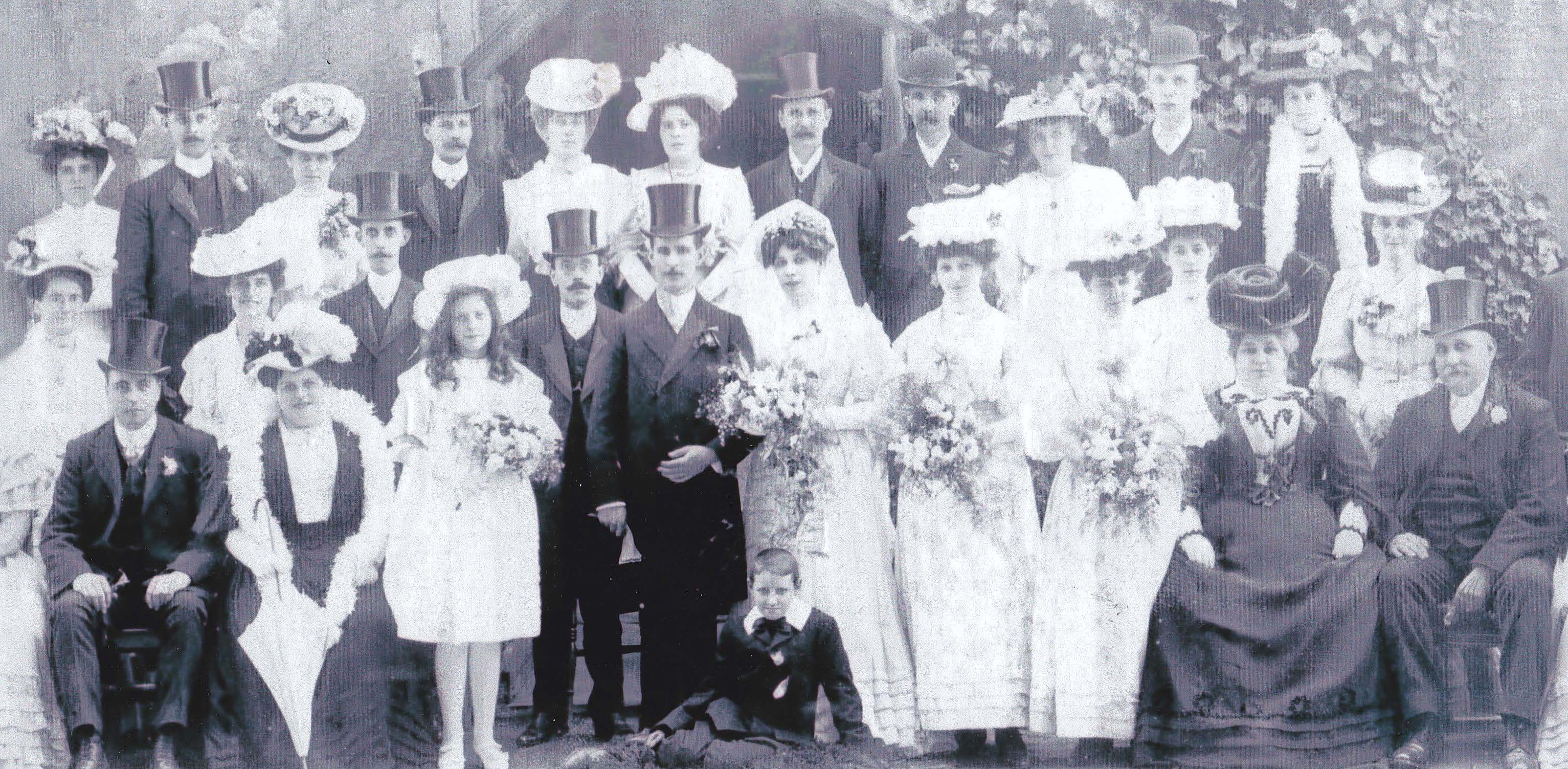 1927
'Bagnall Geo. Bldr. Ivybank, The Grove' listed in directory.
George Bagnall listed in directory as member of the Council in Outwood for the Stanley Ward.
1933 George in Trouble With the Law (Again)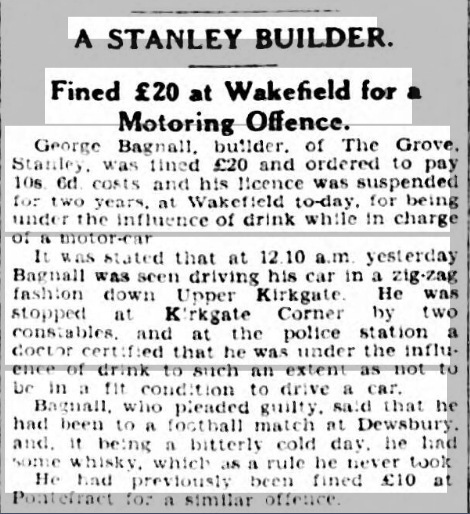 1936
'Bagnall Geo. bldr. Ivybank, The Grove' listed in commercial directory.
1964 30th August George Bagnall Dies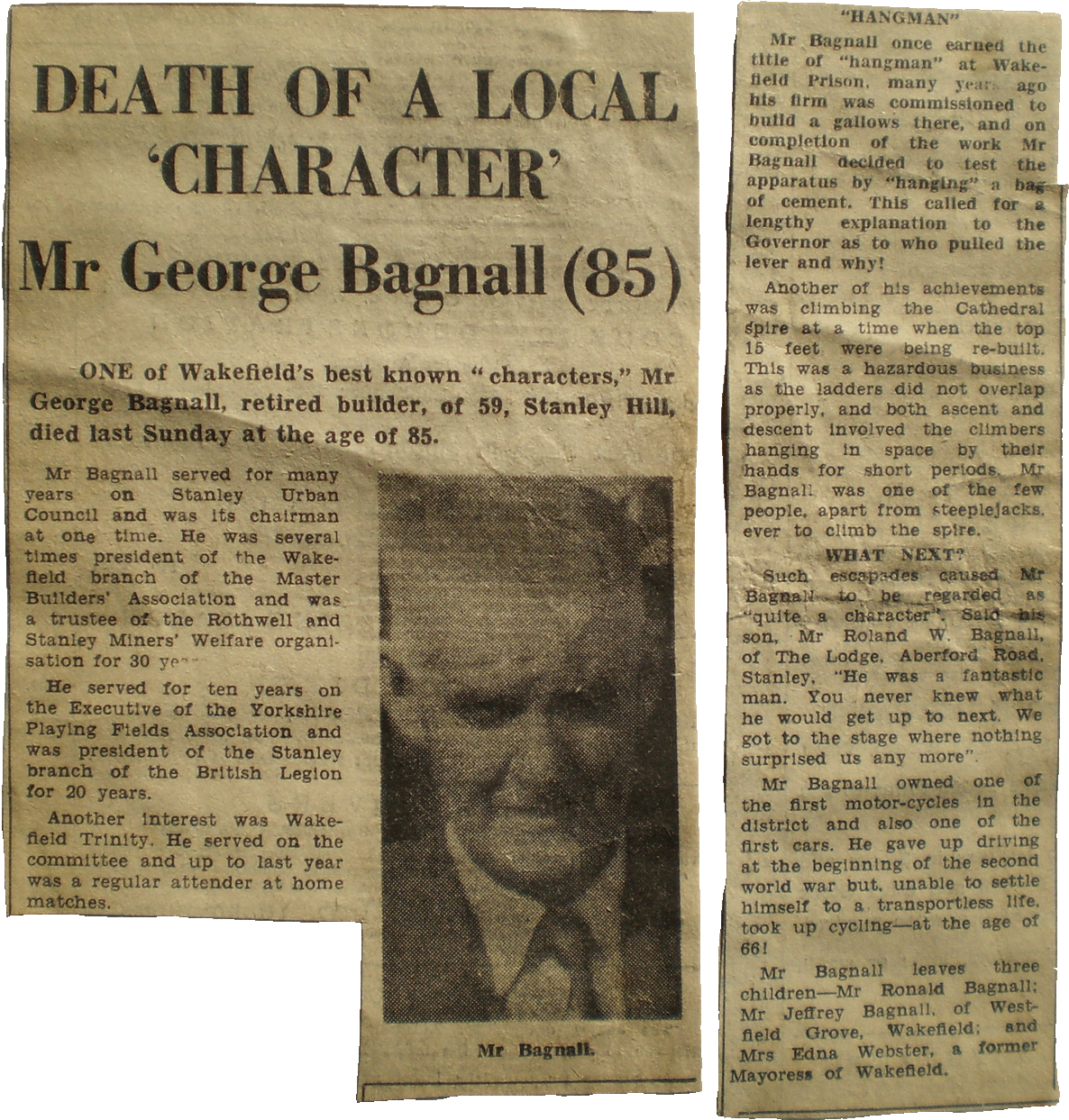 ONE of Wakefields's best known "characters," Mr George Bagnall, retired builder, of 59, Stanley Hill, died last Sunday at the age of 85.
Mr Bagnall served for many years on Stanley Urban Council and was its chairman at one time. He was several times president of the Wakefield branch of the Master Builders' Association and was a trustee of the Rothwell and Stanley Miners' Welfare organisation for 30 years.
He served for ten years on the Executive of the Yorkshire Playing Fields Asociation and was president of the Stanley branch of the British Legion for 20 years.
Another interest was Wakefield Trinity. He served on the committee and up to last year was a regular attender at home matches.
"Hangman"
Mr. Bagnall once earned the title of "hangman" at Wakefield Prison. Many years ago his firm was commissioned to build a gallows there, and on completion of the work Mr Bagnall decided to test the apparatus by "hanging" a bag of cement. This called for a lengthy explanation to the Governor as to who pulled the lever and why!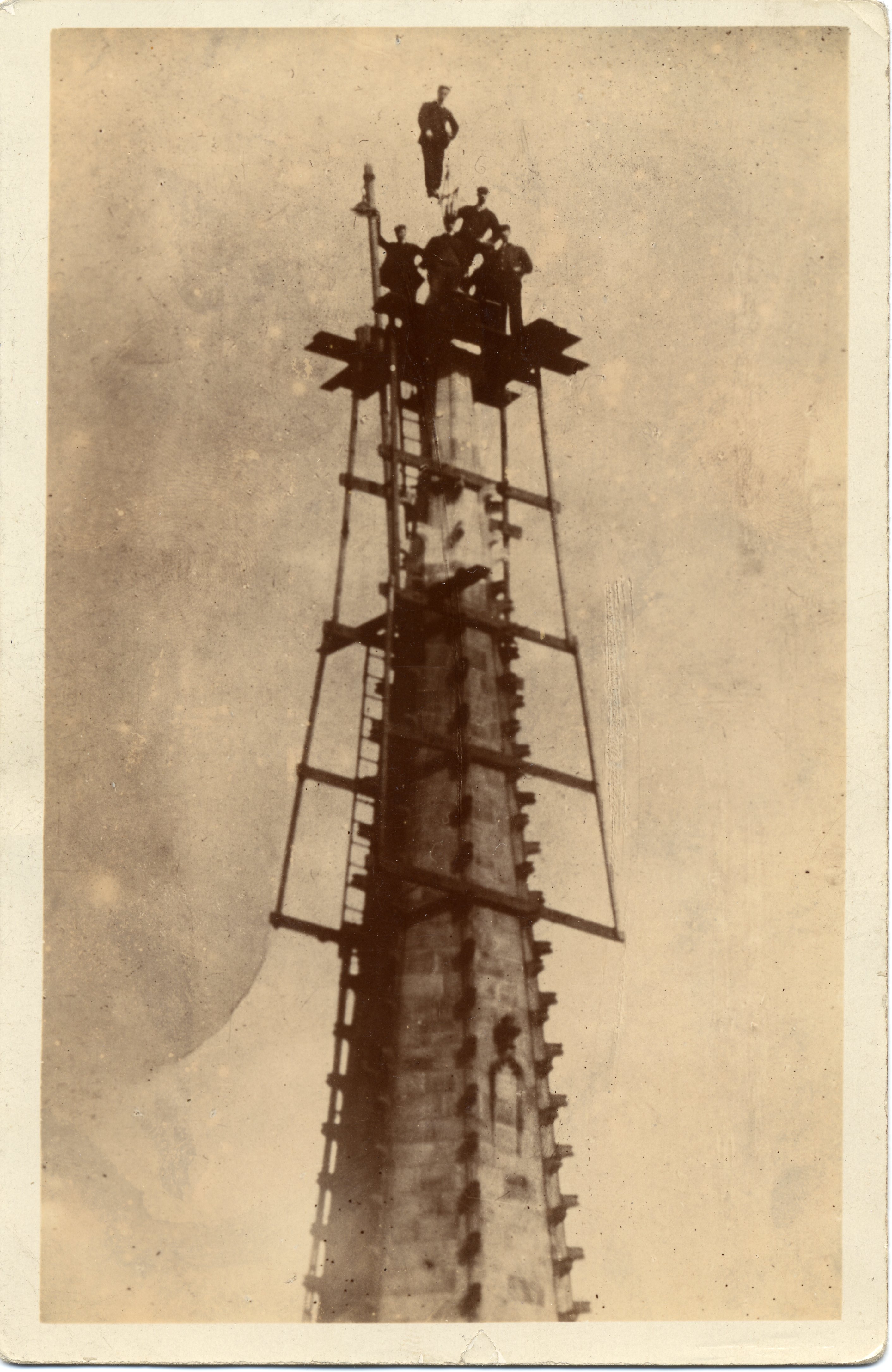 Another of his achievements was climbing the Cathedral spire at a time when the top 15 feet were being re-built. This was a hazardous business as the ladders did not overlap properly, and both ascent and descent involved the climbers hanging in space by their hands for short periods. Mr Bagnall was one of the few apart from steeplejacks, ever to climb the spire.
What Next?
Such escapades caused Mr Bagnall to be regarded as "quite a character", said his son, Mr Roland W. Bagnall, of the lodge, Aberford Road, Stanley. "He was a fantastic man. You never knew what he would get up to next. We got to the stage where nothing surprised us any more".
Mr Bagnall owned one of the first motor-cycles in the district and also one of the first cars. He gave up driving at the beginning of the second war but, unable to settle himself to a transportless life, took up cycling--at the age of 66!
Mr Bagnall leaves three children--Mr Ronald Bagnall*: Mr Jeffrey Bagnall of Westfield Grove, Wakefield and Mrs Edna Webster, a former Mayoress of Wakefield.
* Margaret Johnson kindly informed me that the press cutting is incorrect in the last line and "Ronald" should read "Roland"
George Bagnall's Probate
BAGNALL George of 59 Stanley Hill Stanley near Wakefield died 30 August 1964 at The General Hospital Wakefield Probate Wakefield 24 February to Edna Webster married woman Rowland Wilby Bagnall builder and contractor and Jeffrey Bolland Bagnall clerk of works. £6495.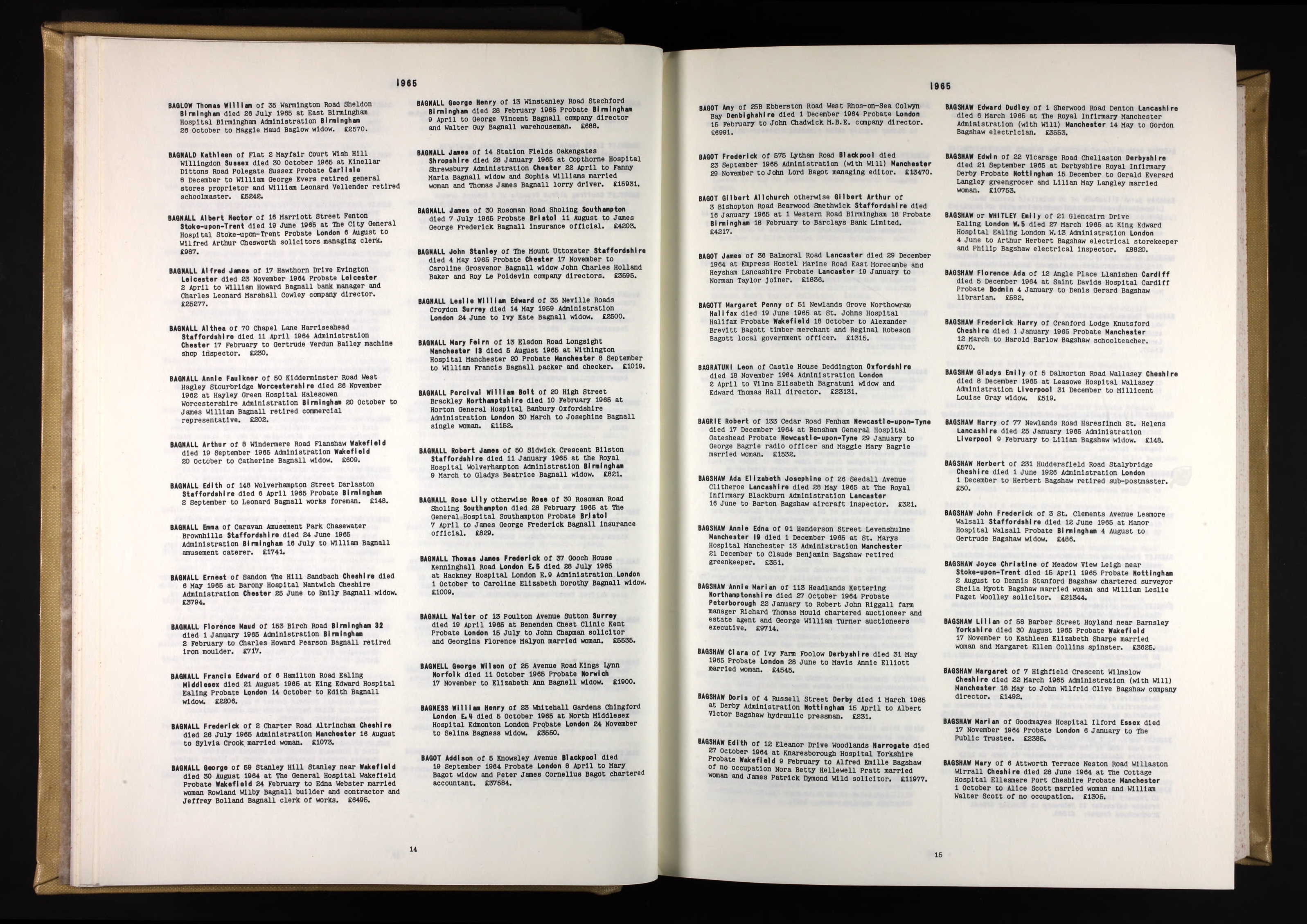 Wonderful Information from Margaret Johnson:
William Bagnall married Sarah Woodhead in St John's Church. n 1839 a daughter Jane Elizabeth Bagnall was christened. They lived in Eastmoor and he was an iron founder. His son Thomas 1823 was married to Hannah Willis in 1843 and he also was a foundryman.
Their son John was the father of my Grandfather.
My Grandfather, George Bagnall was the youngest child of John Bagnall.
In the 1881 census John, living in Eastmoor and shown as a builder in Rowlings Yard, was 32, his wife Mary was 31 and their 4 children were;
Hannah 8
William 6
Ann E 3
George 1
Johns' birth however is recorded as 1849
His brother William and he had a partnership Bagnall Brothers, Builders but William died about 1880, leaving his wife Eleanor whom he married in 1866 and his sons Joe and John and a daughter Jane (aged 6 months)
John continued the building company and George (my grandfather) ran it on his own when his father either retired or died.
George married Annie Bolland in St Peter's Church Stanley. Their children were
Edna 1908 (My Mother)
Rowland Wilby 1910
Jeffery Bolland 1914
Jack Neville 1915 (died as a small child)
Bernard 1920 (died I think the same year, both children I believe died of diptheria)
My Grandfather enlisted in the 1st World war on the first Sunday and announced,to the shock of the family, that my Grandmother would run the building firm and his brickworks in Accrington - which she apparently did very well.
He was invalided out in hospital in Aberdeen towards the end of the war and she also had to visit him. As a child my Mother lived at Ivy Bank, Stanley.
Annie died in 1962, George died in 1964
Rowland and Jeffery went into the building company when they left Wakefield Grammer School. My Mother went to the High School.
Rowland was in the Army in France in the 2nd World war and Jeffery as an engineer in the Airforce.
Rowland married Betty Holliday just before the war but when he finally came home she had locked him out and was living with someone else. He never got his house back but after a few years got a divorce and subsequently married Gladys Kershaw who died last month. They had no children They lived in various houses in Stanley. Rowland died in 1955.
Jeffery married Lena and my cousin Tony will fill in details of their family. His 'phone no. is ###########.
Edna married Arthur Guy Webster in 1933 in St John's Church and they had 3 children
Elizabeth Anne 1935
Margaret Rosemary 1937
George Michael 1939
We lived at 3, Blenheim Road Wakefield.
Our Father took over Webster Brother's from his Father and was on the Council and they were Mayor and Mayoress in 1956. they were Govenors of the High school and Grammer School and did a lot of charity work in Wakefield My Mother died in 1994,my Father in 1988.
Since we none of us have the surname of Bagnall now I think you will not need any further information. However I do have some on John Bagnalls' brother William and if no one else in the family has sent it I will do so.
I will also copy the 'photo's that I have of the wedding of George and Annie. I think the Bagnalls are sitting on the right of the picture because I know the small boy is Milton Bolland and the parents on the right have a Bagnall look about them so I assume it is John and Mary Bagnall.